June 20th, 2023 - 5 min read
Tips for Keeping Valuables Secure During Peak Moving Season
Moving season is an exciting and busy time of year as millions of Americans move to new communities throughout the summer months. In 2022 alone, over 27 million Americans moved within the U.S.1
Despite all the excitement and opportunities that a new home brings, moving can also leave your home and belongings vulnerable. Before your family's next move, keep these important security considerations in mind and explore Master Lock and SentrySafe products engineered to help keep your family, home and keepsakes safe throughout your move.
Secure Your Moving Truck, Trailer or Moving Container
Renting a moving truck or a trailer is a simple way to save some money during your move, especially if you're moving locally. Approximately 37.5% of people in the U.S. move themselves by renting a truck, but unfortunately they're often targets for thieves.2 Protect your truck with a Master Lock padlock featuring our shrouded design that protects against bolt cutter attacks and prevents picking and prying.
If you're using a trailer for your move, it's important to protect what you're pulling, both while you're on the move and when you're parked. Master Lock trailer and towing locks are engineered for heavy towing, and not only ensure your trailer is securely attached to your vehicle, but that the coupler and hitch are locked tight to resist theft.
Moving containers are another popular DIY moving option that give you the flexibility to pack your family's furniture and belongings on your own timeline. Keeping a portable container outside your home may be convenient, but it can also be an easy target for break-ins. Be sure to lock your container every time you finish packing it and give your unit added pry, hammer and bolt cutter resistance with a shrouded Master Lock padlock.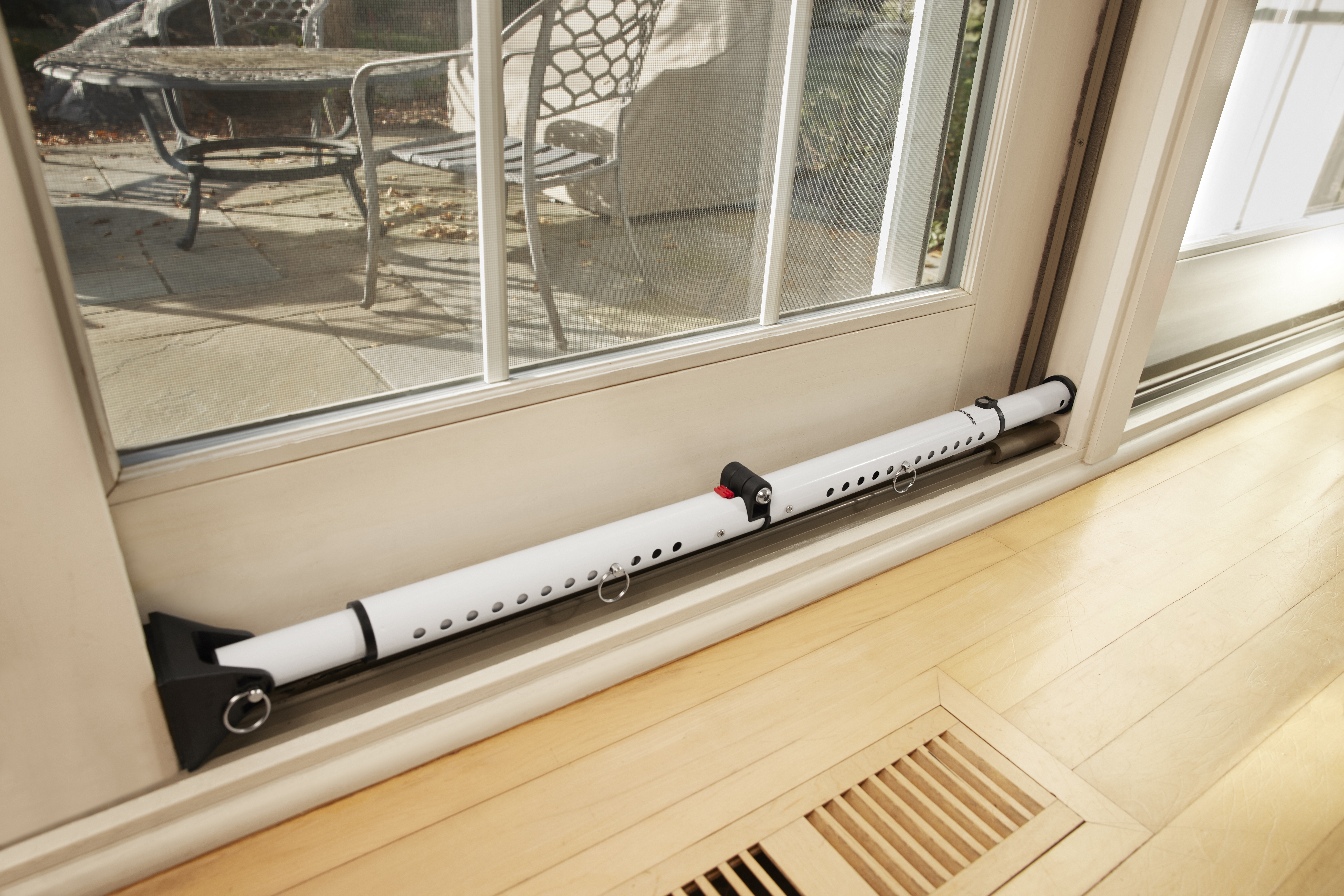 Protect Your Doors From the Inside
One of the first tasks on your to-do list as a new homeowner should be changing the locks on all the exterior doors of your home. Although you'll have the keys that the previous owner left you, you can never be sure how many spare sets were created, or which friends and neighbors may have copies. By using a Master Lock folding door security bar, you can secure both sliding and hinged doors from the inside to help protect your home against forced entry. Plus, you can conveniently fold or compress them for easy storage.
25.7
seconds is how often a home burglary occurs in the U.S. according to FBI statistics
Easily Manage Access to Your Home
While some houses are move-in ready, more often than not, you're going to want to update your home to make it your own. But moving comes with a never-ending to-do list, which can make it difficult to find the time to give contractors, plumbers and cable installers access to your property. With a portable or mounted lock box, you can conveniently and safely manage access to your home when you're not there, plus it's a helpful backup system in case you lock yourself out. Set your own combination, store your keys inside, and easily change the combination giving you peace of mind that you're only providing access to your home to those who need it.
You can also opt for a Bluetooth® lock box that allows you to monitor the access history for your home through the free Master Lock Vault Home app while protecting your new house with military grade encryption and high-security features.
Safeguard Your Most Important Valuables
Moving comes with a lot of heavy foot traffic in your home, especially as movers, service providers, or renovators start to work inside your space. As you settle into your home, a SentrySafe® fire and waterproof safe will help ensure that your most important valuables and documents are protected not only from would-be thieves, but also from threats, like fires and flooding, should an unimaginable disaster strike your new home.
You can also add another layer of protection by bolting down your safe to make your valuables less vulnerable to theft and enjoy even greater peace of mind.
Monitor and Secure Your Home's Water
When it comes to protecting your new home, water security probably isn't top-of-mind, but water damage is actually 6x more likely than fire and 8x more likely than theft.4 Leaks can happen anytime and anywhere, but you can get whole home leak protection with the Flo Smart Water Monitor and Shutoff from Moen. This innovative device monitors for leaks 24/7 and will automatically shut off your water when a leak is detected to prevent catastrophic damage.
No matter how far you're moving, you can ensure a smooth transition to your new home while minimizing the risk of theft by incorporating these security considerations into your moving plans.
MY WIFE AND I RECENTLY MOVED. WE PACKED ALL OF OUR BELONGINGS INTO A MOVING TRUCK, AND I LOCKED IT WITH A MASTER LOCK NO.5 LOCK...DURING OUR TRIP WE STOPPED FOR THE NIGHT, AND THE NEXT MORNING I FOUND THAT SOMEONE HAD TRIED TO BREAK INTO THE TRUCK. OUR BELONGINGS WERE SAFE, AND THE LOCK IS STILL IN GOOD ENOUGH CONDITION TO USE THE NEXT TIME WE MOVE
Related Content
Sign up for updates and offers from our brands